System Details
Software, Hardware, and Functionality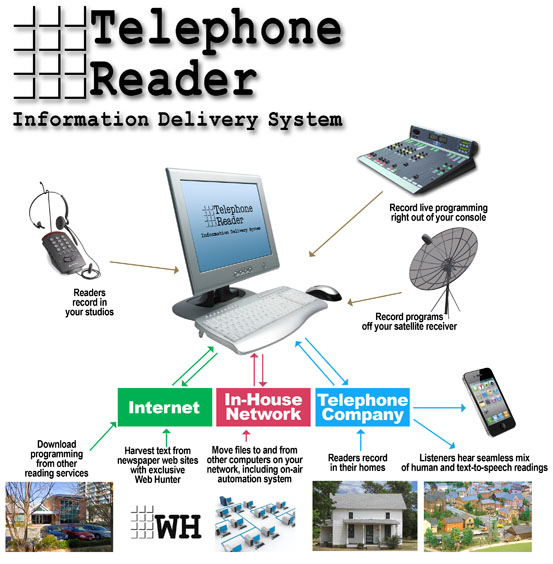 Telephone Reader Features:
In each Group, up to nine publications, each divided into categories, time categories, and subcategories, from 10 through 98
Use Subcategories to increase nine publications to many more
No down time required for updating subscriber list
Alert or Headline messages added easily; Publication Alert is played once at start of publication
System Alert is played at beginning of call, and cannot be skipped
Reports for Users, Publications, and Line Usage
Use built-in reports, or export data file and make your own
Usage Statistics may be viewed in real time
Demo Mode password and timer may be activated
Lines Full timer can restrict usage time
The Telephone Reader system consists of the TR software, installed into a quiet, sturdy, commercial-grade, rack-mount PC. Software and hardware used in the configuration is industry standard, featuring Dialogic telephone interface cards, standard Microsoft SAPI compliant speech synthesis, and Symantec pcAnywhere for remote diagnostics. The system uses hundreds of recorded telephone prompts, including custom prompts that you'll need for your local newspapers, newsletters, and other programs you'll provide through the system. Voice recording into the system can be done from any telephone. To use your own in-house studios for recording, the TR system can include local access boxes with pro-quality Plantronics wired or cordless telephones.
TR Administrator is a separate program which interfaces with Telephone Reader. You can use the Administrator program on the same computer or you can use the included network software to run the programs simultaneously on separate computers. You can see the name and city of the caller, total calls for the day by line number, and total time used for each line, plus which categories and publications attract the most readers. A second, networked computer can also automatically format and copy text articles to the system.
TR Administrator allows you to add new users and give them immediate access, to set or change recording controls, set up time categories, load text from floppy disks, and load new system prompt recordings from floppy disks. You also use TR Administrator to set up Statistics Auto-Print, and to generate reports, labels, and merge files.
Web Hunter is a separate program included with Telephone Reader. Web Hunter can be set up to automatically go to your local newspaper's web site and harvest the text. It will find each story in the paper, download it and drop it into the correct category. The text can then be read by the Telephone Reader speech synthesizer, providing an entire newspaper, every day, with no time commitment by staff or volunteers.
Demo:
To try Telephone Reader yourself, call 1-800-335-1221. Enter code 5887 (K-U-T-R). To hear text-to-speech, try Group 1, option three. To listen to other systems around the world, contact us for access details.
For more information on Telephone Reader, call Steve Kincaid or Dan Mantyla, at 785-864-4600, or email dmantyla@ku.edu